What does shopping on Sunday, mocking someone for not agreeing to duel you, pinball machines, and playing billiards have in common? They were all illegal in parts of the United States (and the world) at one point or another.
Pool has had quite the history since its inception. Although illegal in the past for some parts of the world, it is now enjoyed by people from all walks of life on a daily basis.
While it may seem like a fun pastime for some, it is a serious game to others. Having the proper materials for the pool table is something that is very important to those who take the game a bit more seriously, as the materials that make up the table could change the way the game is played.
The two most popular materials that make up pool tables are slate and wood. Each brings its own benefits to the table (pun intended), and familiarizing yourself with each type of table is the first step in choosing which one is the best fit for you.
What is a Slate Pool Table?
Just like the name implies, slate pool tables contain a slate playing surface. Slate is used as it provides a very flat and durable surface that allows the balls to roll smoothly to their destination. This slate slab is later covered in cloth along with the cushions that run along each side of the table.
The thickness of slate tables ranges between 19mm and 30mm. Thicker slate tables are used on more expensive tables and in tournament-style tables. The great thing about slate tables is that the surface is very resilient and resistant to damage.
What is a Wood (MDF) Pool Table?
As mentioned previously, a new type of pool table has emerged in recent years. These are made out of medium-density fiberboard, hence the name.
This fiberboard is crafted out of wood chips that are shaped and bound together using a process of mixing with resin or wax. The mixture is then compressed in order to squeeze all of the air out and form a sturdy surface.
MDF pool tables tend to be lighter in weight than traditional slate bed pool tables and usually have frames made out of metal or some other type of fiberboard rather than genuine wood. Folding legs are common in MDF bed pool tables, along with plastic pockets and other parts.
MDF is popular as it is quite a bit more cost-effective while providing a denser and flatter surface than any other wooden composites, though it still does not match up with the level of quality that a slab of slate offers.
Difference Between Slate and Wood (MDF) Pool Tables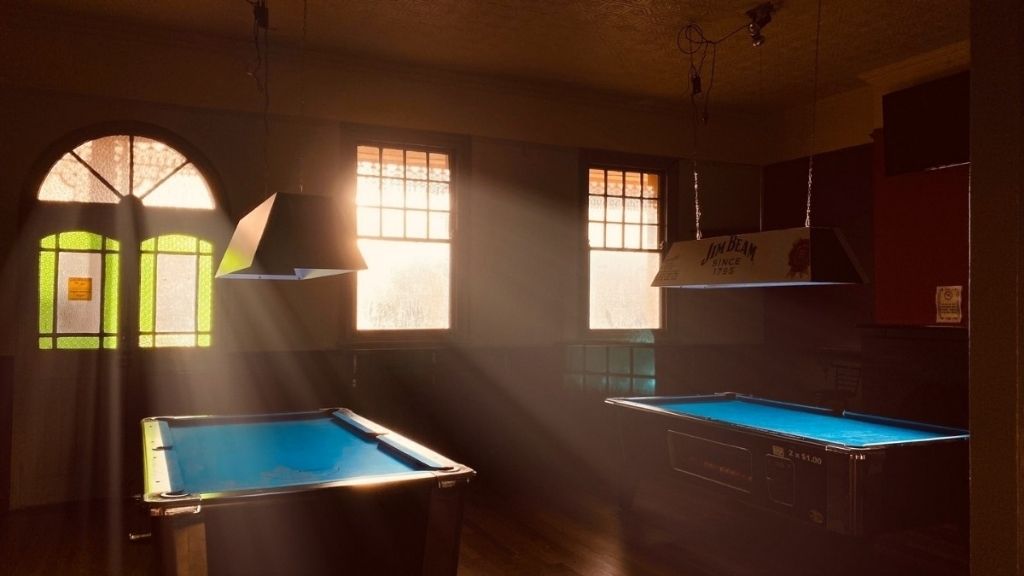 There is no denying that there are quite a few differences between a slate and an MDF pool table, but not all of these differences make one better than the other. When choosing a pool table, it all depends on what you are looking to get out of it. We will now go over what each type of pool table offers.
1. Quality
Quality is one of the most noticeable differences you'll notice when comparing the two types of pool table. Wood tables have MDF beds as well as frames, though they may also come with metal frames.
Slate tables typically have a very high-quality slate bed and hardwood frame. These tables tend to have a higher standard of quality as well as cost, while MDF tables tend to be cheaper and of lesser quality than slate tables.
This can be somewhat attributed to the fact that many slate tables are produced in small factories by expert craftsmen who assemble the tables with precision and care.
Wood pool tables tend to be made in large factories and mass-produced in order to save time and money. This adversely impacts the quality of the tables since their parts and pieces are not as closely crafted, inspected, and checked by the manufacturer.
The higher quality of a slate table brings along with it benefits such as a better experience when playing on its surface; balls roll smoother and travel farther than on MDF pool tables, and the table itself will last considerably longer than a wood pool table would.
Winner – Slate Pool Tables
2. Cost
MDF pool tables are considerably cheaper than standard slate tables. This, of course, comes down to the materials that are used in crafting the table.
Because slate is more expensive to prepare and place into the table, along with the frame of the table being made of solid wood (usually), an MDF table with foldable metal legs and plastic pockets will cost you considerably less.
Taking into account the fact that while wood tables are cheaper to purchase than slate tables, they often do not last as long and are more prone to damage and breakage.
So, while slate tables will cost you more of an initial payment, they will outlive MDF tables when put under the same type of stress.
The risk of needing to purchase a new table, should liquid spill onto your slate table or someone leans their entire weight upon its surface, is very low when getting a slate table due to the higher level of quality that it is made at. This translates into less expenses for you since the table is less prone to damage.
As stated earlier, slate tables are oftentimes made by expert craftsman that create each table by hand. Meanwhile, wood tables are often mass-produced. This impacts the price of each table quite a bit since specialty parts and unique crafting will increase the overall cost of the table.
Winner – Wood or MDF Pool Tables
3. Durability & Longevity
Touched on in the previous point, MDF or wood tables are much more prone to damage and breakage. They are, typically, not as durable as a slate table.
Not only is the bed itself quite susceptible to water damage, but the frame of the table is often flimsier and weaker than a frame that is used to support a slate pool table.
On the one hand, you have slate pool tables, which are incredibly durable and (usually) very well made. These types of pool tables are built to last, and you should expect to only ever have to purchase one ever.
Water damage and warping are two things that you will not have to worry about since the slate is resistant to such things.
Wood or MDF tables, on the other hand, are much weaker than their slate counterparts. They break easily under pressure (so you can't lean on them) and are flimsier than slate pool tables.
This can impact how you play, as you cannot lean on the table to take certain shots. Wood pool tables also suffer from warping if they ever get wet, which can destroy the table and make it unplayable.
Winner – Slate Pool Tables
4. Weight & Portability
It goes without saying that lugging around a full-size pool table with a slate bed and solid wood frame is no easy task. Just to get an idea of how heavy a pool table can get, think of a fully grown horse. There are slate tables that weigh more than that horse.
Moving a slate pool table on a regular basis is completely out of the question. Slate tables should only be moved when it is a necessity. Even if you have the workforce to transport the table, you will have difficulty getting the slate realigned properly without the help of a trained professional.
Wood tables, in contrast, are significantly lighter than slate ones. They can be picked up and moved around with relative ease. If they are fitted with folding legs, then you can fold them up and place them to the side when not in use.
They can be taken wherever you need to go so long as you can fit the table in a car or truck, and there's no worry about the tabletop losing its alignment. Simply fold out the table wherever you intend to play and then fold it back up once finished.
Winner – Wood or MDF Pool Tables
5. Space & Sizes
Slate pool tables tend to be larger than MDF tables, coming in at sizes of 9 feet, 8 feet, and 7 feet in length and between 44 inches and 50 inches in width. Of course, this size may vary slightly depending on the type of frame that the slate is sitting on.
If you plan on getting a slate pool table, you will most likely need to devote an entire room to accommodate it.
This is because you cannot put a pool table in a corner or against a wall and expect to be able to play correctly. They are to be placed in the center of the room, and that means they take up quite a bit of space.
MDF tables tend to be slimmer due to the frames being quite simple overall. They come in the same sizes as standard slate tables, but the overall footprint of the table will come out to be less most of the time.
This can be attributed to the materials used to make up the frame of the pool table and the location of the table legs.
Also, as discussed earlier, you can fold up most MDF tables for easy storage when not in use. That means you do not need an entire room dedicated just to your pool table. The same cannot be done with a slate table, and a space will need to be devoted for its use.
Winner – Wood or MDF Pool Tables
6. Warping (Reaction to the Environment)
Warping is when the bed of the pool table distorts or changes shape due to either heat, liquids, or some other form of damage. This is very detrimental to any pool table as a distorted play surface can completely ruin the game.
Slate tables do not have to worry about humidity since the stone will not warp or change with the weather. Nothing will change about the quality of the bed, even if you spill liquid on the table. At worst, you may need to swap out the cloth of the table in case the cloth becomes stained or worn.
MDF tables contain a wood bed and are highly prone to warping. Humid weather is a wood table's worst enemy, as it will cause the bed to warp and lose its flatness. Even a very high-quality MDF pool table is susceptible to warping in humid environments, and there's no way around that.
If you ever spill liquid on your tabletop, wipe out all the liquid as early as possible otherwise, expect it to get sucked into the MDF board and sit there, speeding up the rate at which your table's bed will degrade.
Winner – Slate Pool Tables
7. Playing Experience
Anyone who is serious about pool will be able to tell you the most noticeable difference between slate tables and MDF tables which is
Expect the balls to roll much smoother on a slate table than on a wood or MDF table. In slate tables, every grain within the rock is parallel and flat, making for a very smooth surface.
The grains that are contained within an MDF board are not like this, however. They are more situated in random orientations and tend to be quite blocky. The difference is so small, but it will make the balls spin and perform differently.
So it goes without saying that when shooting a ball with the same amount of effort, the ball will travel a shorter distance on a wood bed than a slate bed. While it is true that the brand of cloth that your table uses will also impact gameplay, the surface of the bed itself is also crucially important.
If you are serious about your games and can afford the money and space for a slate table, then definitely pick one up. It will give you the best gameplay and experience possible.
Though if you think that gameplay is not as important as saving space and money, then a wood bed table will get the job done and still allow you to play pool.
Winner – Slate Pool Tables
Which One Should You Get?
Slate tables are simply the very best type of pool table that you can get. They offer you the best performance possible by giving you the greatest surface for your balls to roll on. There is simply no comparison when it comes to performance of a slate bed.
You also get tournament-quality components in your table that will last for years, such as top-quality cloth, pockets, and rebound response. Choices of design and appearance are also more varied, and you can pick a unique style that suits your room.
Slate tables do come with drawbacks, though. For starters, they are quite heavy and cannot be stored away when not in use. They are also quite expensive when compared to wood tables due to the materials that are used.
We recommend tables made out of solid maple like the Olhausen Billiards 8 ft Belmont Pool Table. It sports a solid slate bed and beautiful drop pockets. For anyone looking to get a well-made slate pool table that has a classic look and looks sophisticated in any room that it is placed in, this is a great pick.
Related: Olhausen Pool Table Review: Are They Really Good?
Mizerak Donovan II 8' Billiard Table would be an excellent choice if you are looking for a more modern pool table that still offers a slate bed. You get superior performance along with a new and updated look for your pool table.
Unlike the previously mentioned slate table, this one has a bit more of a modern look. It can make a great fit in any theater or game room that has more of a modern feel. The black structure and beautiful red cloth stand out and make it a great centerpiece for the room. And of course, the quality is of the highest standard.
Wood tables, on the other hand, are much cheaper than slate tables, are lighter, and take up less space since many can be folded up when not in use. They essentially offer you everything that a slate table offers at a much lower cost.
The downsides include performance being worse than that of a slate table, MDF tables being more prone to liquid and humidity damage and other breakage, replacement parts being difficult to find, and the appearance of these tables not being for everyone.
If you are looking for a wood bed table that still gives you that traditional pool table looks, then EastPoint Sports Billiard Pool Table is the best option for you. While it isn't a slate table, it still has quite some heft and weight to it, and unless you look very closely, you won't even realize that it isn't actually slate.
Truly an impressive-looking table that punches well above its weight in performance, you can pick up this offering from Eastpoint if you want a beautiful table that doesn't break the bank.
If you prefer a bit of a darker wood look, then Barrington Hawthorne 100 Inch Billiard Table Set could be a good pick. At first glance, you can't even tell this is a wood table, and the performance it offers is quite good for a wood table.
Yet another classic look, this Barrington Hawthorne offering has a bit of a darker felt cloth than the previous Eastpoint product. It also comes packed with all of the trappings you need to get started playing pool. Get this set if you want to get a gorgeous wood table that still has the looks of a slate table without the price.
Related: Barrington Pool Table Review: How Good Are They Really?
Final Words
Slate tables offer better performance overall but are quite pricey, whereas wood tables are quite a while offering slightly inferior performance. Slate and wood pool tables both offer up some unique advantages, and at the end of the day, it all depends on what you want to get out of your pool table when deciding which one to go with.