Pool tables are a purchase that many would rather not need to make more than once. Their considerable size, weight, and especially price make them an item that is best purchased one time and then used for the rest of your life.
Different pool table brands offer different benefits and features with their tables, some better than others, but with all of the different brands that are available on the market, it may be quite difficult for first-time buyers to find the pool table that is just right for them.
That is why in this article, we will be taking a look at two of the best quality and most famous brands on the market, Brunswick, and Olhausen, and taking a look at what sets them apart from each other.
Both brands craft beautiful products that offer a lifetime of use and enjoyment, but each one brings something special to the (pool) table.
After reading through this breakdown of the two famed brands of tables, you should have ample information to easily decide which table is best suited for you out of these two choices.
Olhausen Pool Tables
Olhausen as a brand is one that is known to craft tables that are not only beautiful but also practical. The company started back in 1972, and ever since then it has been one of the biggest names in billiards, remaining family-owned even to this very day.
Starting with Don and Butch Olhausen, this billiard company first established its name in San Diego, California, with only moving pool tables available. But their niche later expanded and started producing a wide variety of pool tables and top-notch accessories.
1. Overall Quality
Known for producing some of the highest quality tables in the industry, Olhausen is one of the leading brands that manufacture pool tables. They make each and every table with a level of quality that is hard to find elsewhere.
Each table is built to order and custom, meaning that no two tables are exactly alike. That level of uniqueness and care put into each, and every table made really drives home just how great of a table Olhuasen is known to produce.
Because of the high standard of excellence that Olhausen holds its tables at, aspiring professionals and players who want to take the game seriously will enjoy their tables quite a lot.
They provide a tournament-level of craftsmanship in every table, and you can expect to find only the best materials used in an Olhausen table.
2. Materials
Olhausen tables are composed of only the very best in terms of materials. Every Olhausen table is manufactured within the United States. The woods that are used in each table is almost exclusively sourced from within North America, specifically.
Oak and maple are quite commonly used with Olhausen tables. You can, of course, customize your table to include any type of wood you please, but you will generally find Olhausen tables consisting of these two types of wood.
One feature of contention between Brunswick and Olhausen is the material used in the rubber of the cushions.
Olhausen sports a different type of material for their cushions, which offers a different feel to that of a Brunswick, and it all comes down to preference and how you like the feel to be.
Olhausen tables feature rubber cushions that consist of Accu-Fast rubber. This is a specially formulated rubber that has undergone rigorous laboratory testing to ensure that it provides the best possible bounce and deflection for billiards balls.
These cushions are crafted out of the very highest-grade rubber that is available, ensuring that every bounce is consistent and well-executed every single game. Anti-reversion materials are also implemented to ensure that the rubber retains its rubbery state indefinitely.
Many agree that the cushions found on Olhausen tables are some of the very best in the industry, and they have become an industry standard for tournament and professional play.
Unlike nearly all of the other materials that are present on Olahusen tables, the cloth of an Olhausen does not originate from the United States but rather comes from England.
In most models, Hainsworth cloth is used to provide a smooth and reliable playing surface that generally lasts for a long time without needing to be replaced.
3. Cabinet
Olhausen tables come with pre-installed cabinets. These Uniliner framed cabinets are proprietary and built by Olhausen in the factory. They are manually squared and aligned with the base frame of the table, giving it a sleek and uniform look right out of the factory.
One downside to this is the fact that the pre-assembled nature of the table may make it hard to fit into some rooms of the house, but it's a generally minor issue that can be taken care of if you are prepared to purchase a pool table beforehand.
4. Price
Because of just how well-made an Olhausen table is, it does demand quite a high price. While the cost of an Olhausen table is nothing to sneeze at, nearly every customer of an Olhausen table that you ask will agree that it is more than worth the cost.
These tables cost around a minimum of $2,100 for a base model.
A contributing factor to the high price tag of an Olhausen table is the fact that it is manufactured and built right within the United States. Every Olhausen table is handcrafted in Portland, Tennessee, with the highest degree of expertise and artistry.
Related: Olhausen Pool Table Review: Are They Really Good?
Brunswick Pool Tables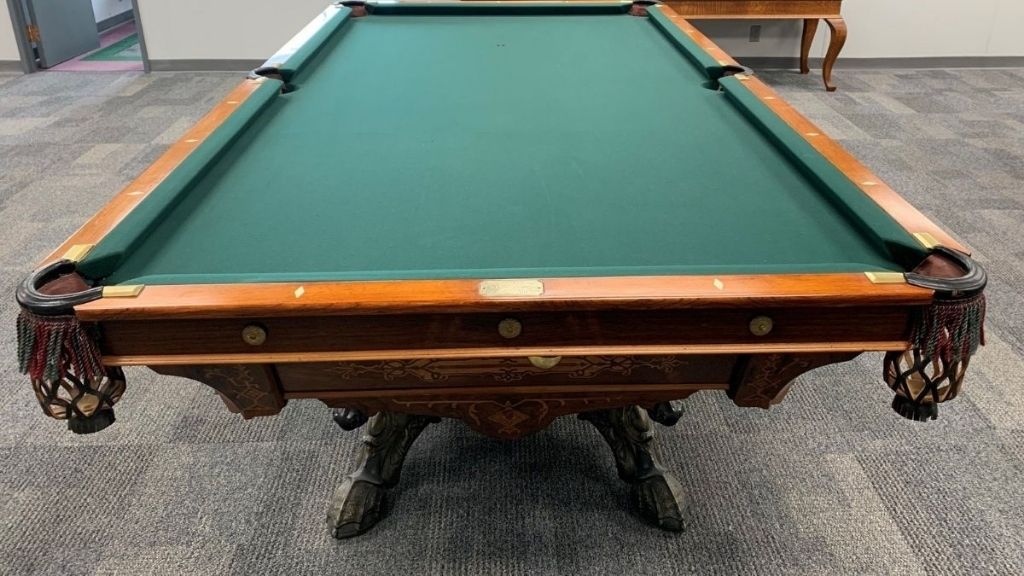 Brunswick, as their slogan states, is the oldest billiard table manufacturer in the United States. They got their start in 1845 and have been producing quality pool tables, as well as many other products, ever since.
They are one of the biggest pool table brands in not only the United States but the entire world and have earned their reputation for producing quality pool tables that are built to last for years to come.
1. Overall Quality
Brunswick pool tables are renowned for their quality and are very good tables considering how much they cost. These tables are oftentimes viewed as the best table that one can purchase if they intend on using them for use in the home.
These tables are not manufactured within the United States, rather being made in China and Vietnam, and this can be seen as a detriment to quality. They are, however, great entry-level tables that still hold up well for professionals and serious players.
2. Materials
This brand uses woods that are imported from South America. The woods that are used in each Brunswick table are still fantastic hardwoods and look great along with the rest of the table.
The woods that are typically used in Brunswick tables include Jequitiba and Poplar, which provide uniform grain and texture while still looking very pleasing to the eye.
In terms of the rubber used in the cushions of Brunswick tables, you still get premium-quality rubber; however, Brunswick tables sport 'Super Speed' rather than Olhausen's renowned Accu-Fast.
While they are not crafted out of 100% rubber, they are still considered standard in the industry and offer great deflection and consistent play.
The cloth used in Brunswick tables is of high quality and provides a smooth and uniform surface for balls to roll across. They have been offering two types of cloth- traditional woolen cloth and centennial stain-resistant cloth that lasts up to 60% longer.
3. Cabinet
Another point where Brunswick differs from Olhausen is the way that the cabinet is made. The cabinet of the Brunswick table is known as a Knock Down cabinet, which is pre-built but not pre-installed, unlike the Olhausen table.
Brunswick is known for making the very best Knock Down cabinet in the pool world, though it does not offer the same kind of deflection as the Olhausen cabinets. This should not affect gameplay too much if you are using the table for recreational play.
The easier installation provided by the Knock Down style of cabinet is more appealing to those with smaller spaces within the house.
4. Price
In terms of cost, Brunswick tables are nearly the same as Olhausen tables coming in at around $2,000 for a great starter table. They do offer cheaper options as well as choices that are quite pricey, but for a good entry-level table, expect to spend around the same as you would for an Olhausen.
Conclusion
At the end of the day, the choice between these two tables all comes down to preference. That being said, Olhausen tables have a rich history and make fantastic tables, but for the price that each table goes for, you may want to lean towards Brunswick.
Nevertheless, being manufactured in the United States with homegrown wood, sporting rubber cushions that are considered the epitome of quality, and coming with a solid reputation for quality, it is hard to pass up an Olhausen table.