Pool never gets old. Back then, we only knew pool tables made of wood with their elegant and exquisite designs. Now, we have tables made from metal to newly created materials like acrylic.
It is not easy to buy pool tables as you are not always assured if you are going to get the best quality for your money. Therefore we have done the homework for you and have compiled a list of table types, including some of the high-quality pool tables you can currently buy.
This article is all about those different types of pool tables that you can buy. We have given a detailed discourse on these different types of tables with their advantages and disadvantages. After reading this article, you will have a bright idea of what kind of table will best suit you.
1. Wood
Wooden tables have a surface that is made of a material called the MDF. MDF is a type of hardboard that is highly durable and strong. They process it through gluing wood fibers under extreme heat and pressure to make a strong piece of board. These tables are more convenient to use and install and are more practical to use.
The MDF pool tables are very cost-effective. They have easy shipping, they are very easy to carry around, and you can quickly move them even after the installation as they are much lighter than the slate tables. MDF tables are, in general, more lightweight and cheaper than slate tables.
Although they do have the benefit of being lighter and easy installation, these advantages come at the cost of decreased playing quality and durability.
On an MDF table, you won't get the same feel as you would on a slate table. As the ball doesn't roll as smoothly as on a slate table and the wooden board tends to warp over time. In humid environments, these tables are not suitable as the wood will warp and swell up. If you live in a humid area, it is advised not to go above 7 feet as it will warp over time.
These tables are for those who want to have fun and have a table for their farmhouse or personal space. If you own a pub or are a professional, you should consider slate tables.
Some of the best wooden tables include the Barrington Arlington, which has a flat low profile, and Fat Cat Reno, which is mostly preferred by many enthusiasts.
2. Slate
As evident from the name, slate pool tables have a bed made out of slate and is then covered with a piece of high-quality cloth. The cloth is almost all the time stuck to the slate bed so that there will be no gaps to form ridges, which may disrupt the playing experience.
The slate can vary between different lengths and thickness depending on the table type and quality. Some have a 3-piece slate table, and some premium tables have a one-piece construction. You will find these types of tables, mostly in pubs and clubs.
Slate tables mostly use solid stone for their construction, which makes them very sturdy and durable. They are almost all the times used in professional tables as they make a smooth surface to give the best kind of roll to the ball.
This material also does not warp owing to the changing weather conditions and humidity levels. You can expect this kind of table to last a lifetime as it is highly durable.
While they are the most reliable form of tables, they are not without their drawbacks. These tables are mostly made by premium pool table manufacturers and cost a lot to make. That is why they are super expensive.
Furthermore, the slate slab makes it extremely heavy, and it is not very easy to move. Moreover, the manufacturer needs to give keen importance to the frame to support the slate slab, which requires high-quality wood and thus increases its price further.
These tables are great for those who want to open a professional snooker club or are pool professionals themselves. You are better off with other tables if you don't fall into that category.
Some of the best slate tables are the Mizerak Dynasty Space Saver and the Fat Cat Tucson, which are known for their quality slate boards as these brands give the utmost care in crafting their boards with precise dimensions and flatness.
Learn More: Slate vs. Wood (MDF) Pool Table: Which is Better?
3. Acrylic
Rubber and plastics are those two components which are widely used in making sports and gaming equipment. Acrylic, on the other hand, is a blend of these two. Technically, it is a blend of poly plastic and glass, which makes itself into a glass-like material that is extremely strong and is shatter resistant.
Most of these tables are highly efficient pieces of equipment as they are convertible, which means that you can play ping pong and air hockey on them. Owing to their lightweight, the board can easily be shifted.
The acrylic body is separate from the top of the board, which means that it can be removed and be replaced with another type of board. Many acrylic tables use acrylic boards as well, but these are very rare and are only custom made.
Acrylic tables have a lot of advantages. They are best used for outdoor games and are suitable for kids. These tables are also good for training as they don't cost too much, and as a beginner, you can buy a low-cost acrylic table to train yourself.
There is not much against these types of tables as they are suitable for both indoors and outdoors. The only drawback that these tables have is their durability.
While acrylic is shatter resistant, it is still fragile. Any force more than its threshold can break it. Furthermore, it is not meant to be used in professional tournaments as it is more of a showpiece than a professional table. Some people custom made their tables just to have a showpiece in their living room.
These tables are for those who either want to decorate their house with something exquisite or want to have outdoor fun in their leisure time. If you are a professional, it is best to stick with the slate.
4. Metal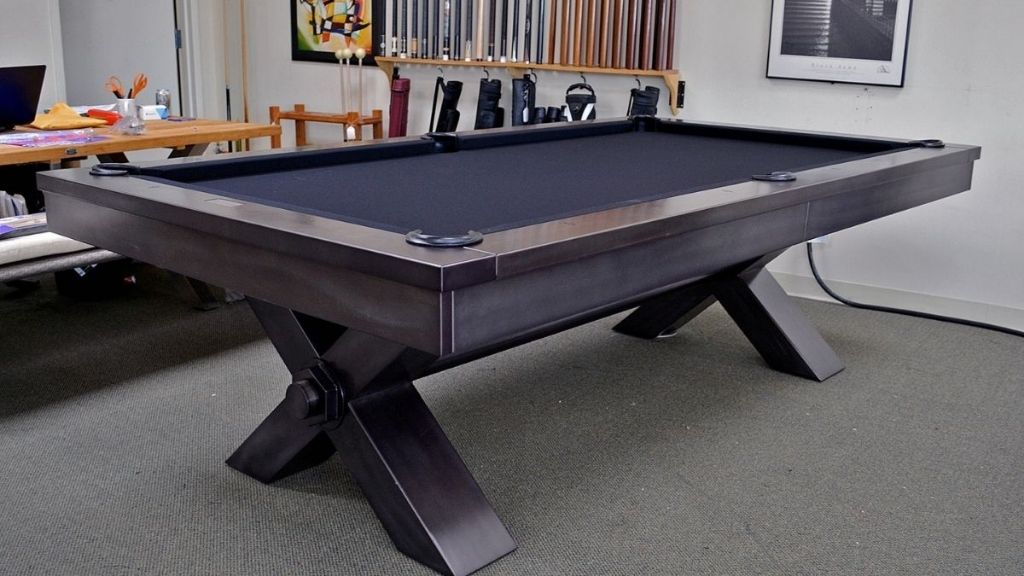 In a metal table, most of the materials of the table are made of metal except for the top cloth. While most of the metal tables have a metal frame and legs, some come with wooden legs. This type of table is extremely rare and is only custom made by enthusiasts to satisfy their taste.
The metallic parts are either made of aluminum or stainless steel. That is why these are the most durable tables and will not experience any kind of warping. They are perfect for pool games and are the most expensive of the tables you can get.
As they are made of light materials like steel and aluminum, they tend to be very light and portable as well. Owing to their metal bodies, they are incredibly durable but not as heavy as compared to full wooden tables if metals like aluminum are used.
While they may look all shiny, they are not perfect. First of all, they are expensive and are not as durable as slate. They are also more fragile as any hard object can make dents and ruin the looks. While they may not require any maintenance, proper care should be taken while dealing with them.
These kinds of tables are for those who have an aesthetic sense and have a taste of an artist. These tables are custom made and are a nice addition to your décor. Professional use? Not so much.
5. Rubber
Rubber is a material that isn't used very often on pool tables. You will not find any table made of full rubber, yet there are some custom made tables that have a rubber coating on them and have components made of rubber.
Rubber tables are good for use if you like doing tricks on the table. If you like bouncing the cue ball or doing spins, then these tables are the best as rubber offers a bouncing factor more than any other material.
They are soft and lightweight and are very easy to carry around. Plus, the rubber exterior gives a premium look and feel to it.
These tables, however, require a lot of maintenance. The rubber outside the frame and legs needs to be thoroughly cleaned as it can accumulate dust and is not so easy to clean.
Furthermore, the bouncing factor comes at the cost of the rolling. Rubber boards don't provide smooth rolling as they cushion inside due to the weight of the ball. Furthermore, they are more prone to wear and tear.
These tables are for those who need a premium looking table and don't want to sacrifice the quality. While it may not be suitable for tournaments, it is certainly well suited for personal use.
Final Words
This article aims to give an insight into different types of pool tables that are used for different purposes. We have also provided some tables to choose from based on the table types.
Before choosing these tables, our quality team has subjected these to quality standards to make sure that they match our criteria. Before buying, it is recommended to read in detail about these tables.
Also, now that you know about different types of pool tables, you should consider learning how to identify them. Here's everything you need to know about identifying a pool table brand or its manufacturer.