If you are an aspiring table tennis player or wish to enter the sport without any prior information, knowing the equipment basics is key. Table tennis or ping pong is a complex sport involving both your reflexes and judgment.
It is going to take several practice rounds and matches to help you polish your skills, but the first step starts here. Acquainting yourself with the intricacies of the game must be preceded with learning to equip yourself properly.
If you wish to excel as a player, knowing about and having the best equipment piece is vital to success. Though it is going to take much more for you to become the best there is, at least this is a step in the right direction.
In this article, we aim to explore the world of table tennis and to navigate through the various equipment needed to play the sport correctly.
Table Tennis Paddle
First things first, it is called a table tennis or ping pong "paddle", not racket. The main difference between the two is that this one is "padded" with rubber while the latter has a net of strings stretched across its frame.
The table tennis paddle is the equipment used to hit the ball back and forth and has a much different construction than a tennis racket. It has a wooden frame with a shorter handle and a solid hitting area, which is padded with an outer covering.
Further Details
Ideally, you should buy a model that has a sturdy and strong frame. This would allow the user to hit the ball effectively while wasting minimal energy. A better paddle equals better performance in the sport. However, you should also watch out for its weight and grip.
Choose the product that suits you and not the one that you fancy the most. The rubber padding of the paddle is also equally important. It will affect the spin of the ball when you hit it back.
In case you're not satisfied with a pre-built model, although odds are that you'll settle for a product, you can order a customized paddle built just for you. Customizable paddles make the game more immersive and allow you to play according to your style.
The rubber covering will take a lot of bearing from hitting the ball in spins; it should be up to the task. And remember, don't leave your paddle outdoors, lest it be damaged by the Sun's ultraviolet radiation.
Pricing
The pricing ranges between under $100 to over $500, depending on the features involved. The frame build, durability, and quality of the rubber padding affect the tag. The STIGA Pro Carbon is an excellent high-end product, but if you want something more affordable, you can check out Killerspin Jet 800.
Bottom Line
If you are a beginner, be on the lookout for paddles explicitly designed for beginners. Otherwise, pick a product based on the three value parameters mentioned earlier (frame build, durability, and quality of the rubber padding).
Table Tennis Balls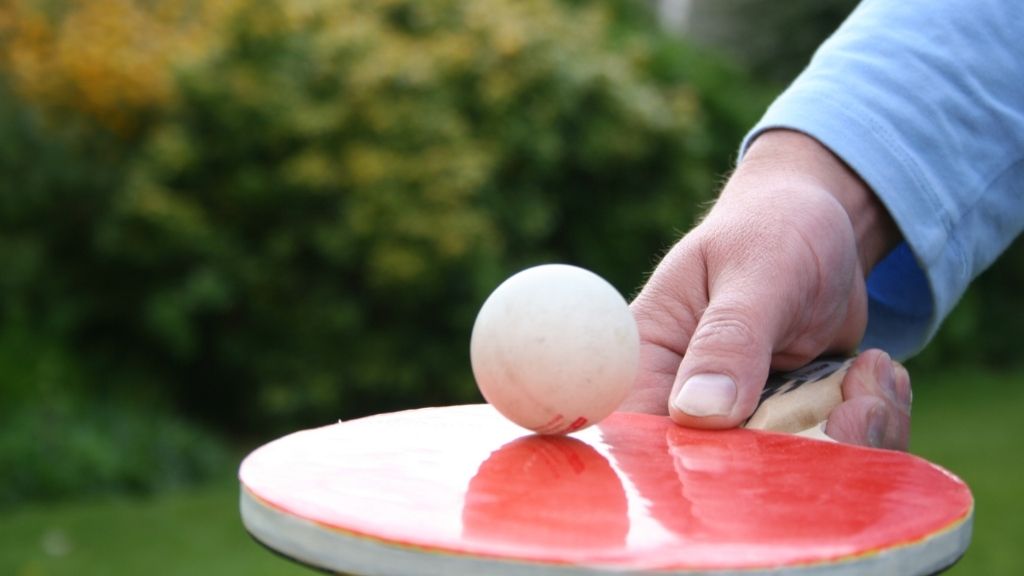 How can we get the balls rolling without the balls? Table tennis balls are either made up of plastic or a celluloid organic material. In either case, the ball must be lightweight and smooth to play with.
They are often colored yellow or white and contrast perfectly against the dark-colored table surface. There is no restriction over the color choice (between the two mentioned), pick the one that best fits for the ensemble.
Learn More: What Are Ping Pong Balls Made Of? And How?
Further Details
As with all the other equipment of the game, these balls have certain standard measures and features which define them. They weigh almost around 2.7 grams, and their diameters range from 38 mm to 54 mm, meaning that they are a lightweight component of the game. This reduced weight allows them to shoot through the air when appropriately struck with a paddle.
Table tennis balls come in different types: the novelty balls come in different colors and sizes and are made for children for recreational play. Then there are the softer practice/training balls that are aimed for beginners to train. Lastly, you get the one, two, and three-star balls for formal play.
Pricing
Ping pong balls are rated with stars (with progressive increase; overall $3 to $20), the more the stars, the more advanced the ball. If you're a beginner, start with a one-star option like Franklin sports table tennis balls, then move on to 2-star Viper balls, and then finally to the 3-star PRO SPIN ping pong balls.
Bottom Line
Progress through the star ratings (of 40 mm balls) as you advance your skill level in the game. As you keep playing and practicing, you will eventually feel the need to ratchet up the star level of your ball according to your skill level. Table tennis balls help majorly in developing and honing your serves and strategies. They also enable you to play tricky shots and deal strokes.
Table Tennis Table
Table tennis tables provide the surface upon which the game is played. These tables are elevated and divided into two halves by a net or post in the middle, which is 6.0 inches high.
The table is mostly built out of wood or metal and may be dedicated for indoor or outdoor usage. There is no limitation to the colors of the table, and you may have your pick based on the rest of the ensemble.
Learn More: What Are Ping Pong Tables Made Of? (Complete Overview)
Further Details
The standards set by the International Table Tennis Federation, regular tables, must have specific proportions. They must be 9 feet in length, 5 feet in width, and be placed at least 30 inches off the ground level. The net or post dividing the table into two must be 6 inches in height.
Some tables are built specifically for indoors, while others can be used outdoors too. It is crucial to check out how your table has been designed before deciding where to place it. Also, take a look at the smoothness level, i.e. does the ball bounce off smoothly from the table, or does it experience friction.
Pricing
High-end tables can easily go up to and beyond $1,000. You can choose one of these if you wish to have a center of attention in your home so that you can amaze visitors with it. Models like Killerspin Revolution and Cornilleau 510M come in this category.
Otherwise, you can browse through mid-ranged products that cost around $150 to $700. This category includes models like Prince Tournament 6800 (indoors), and XTR by STIGA (outdoors).
Bottom Line
Before choosing a table tennis table, make sure you know where you're going to keep it. There are some foldable tennis tables that you can place on countertops, avoid those models, and stick to the standard ones. The most important detail to look out for is the smoothness of the table surface, make no compromises here.
Table Net & Post
Though they may not enjoy the same attention as the rest of the ensemble, they are equally important. The game cannot be played without them, no matter how much you ignore them throughout the session (unless your ball hits it). This is a divider, which separates both halves of the table.
Further Details
The net and post should have a thickness of 16 to 25 mm. The net must be made up of a sturdy and durable material so that it lasts for a while. The unit should be 6 feet long, and 6 inches wide and have a white tape placed on the upper surface.
A table tennis net plays a significant role by designating the separation between the conflicting courts; this table tennis essential ensures that all strokes are acceptable and legal founded on ITTF rules. Moreover, it guides players to regulate the strength of their hits and the correct direction for the stroke.
Pricing
Normally, the price ranges between $20 and $100. Low-end products like Comesee Kioos net will get the work done in most cases. In contrast, mid-range and high-end products like JOOLA Professional Grade post and JOOLA Spring Professional post are suited for more experienced players.
Bottom Line
Consider your skill level, and the nature of the post (suited for indoors or outdoors) before buying. You can always opt for low-level products for everyday usage as they do the task correctly, providing you with ample functionality. At the core, all you need is a net and post that is not sagging or stumbling. High products cater to professional level games that require a lot of scrutinies.
Table Tennis Shoes
Shoes for ping pong are specifically designed to enhance your gameplay by improving in-game footwork. You can't just use any shoes for table tennis, as every shoe is designed to serve a particular function. Table tennis shoes are designed to boost the power of your shots and to make you quick with lateral movements.
Further Details
Table tennis shoes have a slimmer sole for improving the pace of lateral movements and to impart strength to your shots. The first is accomplished by lowering the center of gravity of the player's body, allowing them to shift their lateral position with ease. As for the powerful shots, with table tennis shoes, you can easily keep a firm footing on the ground, and hit with greater strength.
When buying your first pair of tennis shoes (and no, you can't skip this one), be on the lookout for several quintessential features. First of all, your choice must be a lightweight model so that it causes the least strain to your feet.
Also, ensure that it has an appreciable lateral support, as most of your movements will be lateral and not forwards and backward. They should have a strong grip with the surface of the courtyard or room where you'll be playing. Most of all, they should be comfortable to wear and have space to add a cushioning material to help protect your heels.
Pricing
As with all products, brand reputation and quality affect the price tag number. High-end products like Butterfly Lezoline can cost over $150. However, midrange and low priced shoes can be bought under $100. Examples of the latter include Butterfly Trynex and LI-NING, respectively.
Bottom Line
When choosing your first table tennis shoe, make sure that it fits the parameters listed above. Since all people have different foot-span and variable specific needs, it is difficult to generalize this area.
Table Tennis Robots
Robots simulate the pressure of a real game during your practice sessions. Although some would advocate hitting the ball against a surface that does not create the same atmosphere as a real game. Table tennis is an impulsive and unpredictable game unless you can read other people's minds. This is where robots come in.
Further Details
To make it easier to understand here's a list of things a robot can do to help you train and practice better-
Adjusting the frequency of shots – on average, robots can shoot up to 80 balls per minute, while some high-end machines can go over 100.
Shot placement – basic models can only shoot in two positions, but more advanced machines have multiple options in this regard.
You can adjust the speed of these shots as per your level. Start slow and aim for the fastest lane.
Robots don't just simply throw the ball at you; they can add spin to it too. Advanced level bots can be configured to add a backspin, topspin, sidespin, or float to the shot, to intensify the challenge. High-end machines can change the spin with each shot, or even go random to give a more realistic and harder challenge.
Randomization – you can set the machine to completely random mode, meaning that it will shoot in multiple directions, with different spins, or without spins, in no particular order.
If you tilt the robot's head, you can make it deliver a serve shot, and you can practice playing that off.
Some robots have a net funneling system that helps them gather all the balls you've shot off. This way, you don't have to pick up every ball to start another session.
Pricing
The price range varies between $100 to well over $2,000, depending on the features of the model. For a low-end mode, consider iPong Table Tennis Trainer; Newgy Robo-Pong serves excellently as a middle-end model; for those seeking to get the best deal, T&Y Y&T may be a bit pricey but worth every cent.
Bottom Line
As it is with everything else, the bigger the tag, the better the features. Choose the model that fits your training requirements and affordability range. Entry-level robots are best for beginners; they are easy and smaller. This allows the players to get the hang of the robot's mechanism before they can journey up to the higher-end robots. You need to pace your way with this equipment of table tennis.
Storage Rack
Storing your table tennis paddle is very important, especially if your equipment is pricey and requires care. You cannot afford to let your paddle catch dust and grime, as it will be very damaging. A storage rack is excellent for holding and keeping paddles organized and balls for quick access.
Further Details
Generally, table tennis storage racks are made with either a nylon cloth or mesh for holding up the table tennis balls; you can hook these to the table. There are also paddle holders made from wood, steel, and plastic material. These types of rack storages can be mounted on the wall using screws. Most of these racks come with screws included.
Storage racks can usually carry up to five paddles and around seven ping-pong balls, guaranteeing their safety from any possible damage. Their elegant and simple design makes them look good on walls and adds to the overall look of a playroom.
Pricing
These storage racks range from $25 to $40, depending on their material. A tableside holder like Eastpoint Sports Paddle Set will suffice you, but if you prefer a steel design, then you can mount MEOLLO Table Tennis Storage or MyGift Rustic Wood Rack on the wall for a more aesthetic look.
Bottom Line
You should pick your storage rack according to the amount of equipment you have and the material you like. There is nothing more relaxing to know that your paddle and balls are safe for the next playtime and are stored in an organized space to keep them from any damage.
Scoreboard
While playing, there comes a time when a player wonders, "But what is the score?" and that is when you need a table tennis scoreboard. This game can be very fast-paced, so a scoreboard is there to take the burden off memorizing scores, helping you focus solely on the game.
Further Details
A table tennis scoreboard is an item utilized for documenting and showing scores in competitions. The game is all about which player scores eleven points first and so it is obligatory to keep the track. Initially, the number of cards was flipped by hand, and a particular person was assigned to flip the number card to keep up with the fast game.
However, with the constant growth of technology, digital devices have supplanted the manual card flipping and introduced advanced sensor-based devices for scoring. Recently, there have been table tennis scoreboards operated on mobile phones and tablets through applications, too.
Pricing
Scoreboards have a vast array; the card-based scoreboards cost up to $15–$35, and the digital devices range up to $250–$300 with the sensor-based scoreboards costing more. For manual scoring, Match Tuff Ez-Scores and Stiga Scoreboard will fit over the net correctly. For digital scoring, Sportable Scoreboards Multisports is the best.
Bottom Line
Depending on your budget, you can decide which category suits your needs. For beginners and club-level players, card-flipping scoreboards are the perfect option as they are affordable and allow you to record the game by assigning a person to it. Digital devices are best suited for more professional-level indoor tournaments.
Ball Picker
As you finish your match, you realize there are all these balls spread all over the room. You need to pick them up one by one. That doesn't sound as fun as the game itself, and a ball picker comes in handy as it does the work for you.
Further Details
These handy pickers enable you to compile stray table tennis balls quickly without having to bend down and tire yourself needlessly. A ball picker is a racket that features a net and a detachable handle made of durable aluminum. The device is light and simple to handle, and you can stow it anywhere.
The mixture of strength and utility that this device brings to the table is unmatched. It is no wonder why this ball picker is so standard among players. This simple collector gives you an easy and quick way to pick up the balls once you are done playing.
Pricing
Table tennis ball pickers come in many features, and their prices vary accordingly, with general pricing being $20 to $45. iPong Telescoping Ball Pickup Net is in the low range that will work just fine; however, for more features, you can go with My Ping Pong Buddy or Newgy Pong-Pal Collector.
Bottom Line
You can consider going for an affordable option as it will do the job appropriately and is most suitable for everyday play. High-end ball pickers are aimed for more serious games on a professional level that require a large number of balls to be picked up in a short time.
Carrying Case
A table tennis paddle is not an everyday purchase; the last thing you want to see while traveling with your equipment is a broken paddle or splitting on it that would render it useless. Thus, it is always recommended to protect your paddle and balls in a carrying case while touring.
Further Details
A table tennis carrying case contains sections that are molded to fit your balls and paddles snugly. It is made of thick polyester fabric to give you long endurance for your table tennis accessories. The case has a zip that closes it up entirely because it is crucial to keep your paddle from gathering dust, destroying its usability.
Moisture and sunlight are also hazardous for the material of paddles. Dampness can seep into the paddle and weaken its wooden foundation, while UV rays can degrade the rubber and even cause the wood color to fade.
Pricing
While these carrying cases are not pricey, they do come with unique designs. These cases range from $10 to $25, generally. The JOOLA Tour Carrying Case offers you all the necessary storage in a low-range price while the Killerspin Barracuda Carrying Case has design and facility in spades at a medium price range.
Bottom Line
Choosing a carrying case relies on the magnitude of the equipment you have to carry. If you have general club play equipment, then the low-range carrying cases will suffice in keeping your things safe. The high-level carrying cases are made for players who have to do constant touring.
The Final Words
Though table tennis may not seem like it from afar, it is a highly competitive and intense sport. The list of equipment and the assorted details shared in this article serves to help direct you towards the straight course in pursuing this hobby.
The other type of equipment we wanted to talk about is table tennis barriers. It's primarily used in official tournaments and events but can help secure the playing area at your home too.
Also, to feel more comfortable and look great during the match, you can opt for some proper table tennis outfits. These days, they are becoming increasingly necessary due to trends as well as practicality.
As the common saying goes, "if it is worth doing, it is worth doing right". This is our philosophy, and we hope that with this information, you will start playing table tennis, the way it's meant to be.