Finding the right ping pong paddle is no easy business. If you've stumbled upon one that fits your needs perfectly, plays fine, delivers accurate shots, helps you get those loops right, and feels comfy, honor it.
People often get on the wrong track when they assume stuff with total disregard for guidelines on how to care for your ping pong equipment. If properly cared for and cleaned appropriately, your ping pong paddle should last quite a while and help you win a few more rounds.
This article, therefore, aims at exploring how you can clean your ping pong paddle and why you should care about it.
Why Clean Ping Pong Paddle
While generally there is no denying that cleaning is a desirable activity, but in this case, there are some practical benefits too:
1. Preserves Your Paddle's Springiness
The rubber paddings of new ping pong paddles always have a strong grip or stickiness. Some professional-grade models can even hold a ping pong ball adhered to the surface upside down! This springiness is needed for landing precise shots so that the ball hits where you want it to.
A new paddle will allow you to play tricky shots with flawless accuracy; however, the same cannot be said about a paddle that has been sitting around collecting dust. As paddles become progressively dirty, the rubber padding loses its grip, and your shots no longer play like they normally would. This is because dust makes the rubber smoother and kills off its gripping ability.
2. Keeps Your Paddle As Good As New
This is a no-brainer, if it is adequately cleaned, it will look like a brand new paddle. This is not just about the looks, but also the confidence imparted by a new looking paddle. Imagine participating in a local competition, facing against players with spick and span paddles while your one looks like it's been run over by a bus.
Would you feel confident facing against the other player, knowing that their paddle will hit the ball far better than yours and that their shots will land where they want them to?
Not only is it the confidence awarded by a clean paddle, but also the look of it. There is no rational argument (or maybe there is but no one's interested) over why people like new things, they simply do. Just looking at your paddle, knowing that it looked just the same when you first bought it, it's priceless.
3. Enhances the Durability of the Paddle
Ping pong paddles can last years if they are properly maintained or be worn out in a matter of months if you are negligent. If you like the way your paddle performs, then you'd go to any extent to preserve its longevity.
Regular cleaning helps keep your paddle going for the long haul, for years. This means that you and your favorite ping pong paddle can win multiple competitions spread across the calendar and save your time or money trying to buy a replacement.
How to Clean Ping Pong Paddle
Players constantly rush to stores for buying new paddles while they can avoid these trips with just a little maintenance. Your paddle can remain springy and accurate for longer, and will also look fresh if you clean it regularly using one of the methods described in this guide:
1. Using a Commercial Cleaner (Highly Recommended)
Commercial ping pong paddle cleaners are specialized for their function and come in a wide variety of price ranges. These cleaners are ideal for the job because they have been solely designed for it. They are easy to use (most of them come in a spray can), offer unparalleled results, and economical too.
Prerequisites:
The Process:
There is nothing complicated to it-
Spray the agent thoroughly on the rubber padding.
Let the agent dissolve the dust and grime (but do not let it dry out).
Wipe off the agent with a clean sponge, and voila, good as new.
2. Using Water & Sponge/Toothbrush (Not as Effective)
This method is for those who wish to rely on household items to get the job done. The paddle will be cleaned but not as thoroughly or flawlessly as it would be via a commercial cleaner.
Prerequisites:
A bowl of distilled water (or clean bottled water)
A sponge (for inverted rubber padding) or toothbrush (for pimpled rubber)
Dishwashing liquid
The Process for Inverted Rubber Paddle:
Follow these steps if your paddle's rubber is inverted (non-pimpled)-
Pour distilled or cleaned bottled water (room temperature) into a bowl.
Let a sponge soak the water.
Take the sponge out and squeeze it till all excess water is drained, and it is moist but not drippy.
Take the ping pong paddle in one hand and gently wipe the rubber padding, bottom to top with the sponge.
Make the wipes smooth, just as if you were shaving.
Once the side is clean, flip it over and clean the other side.
After cleaning up, let it dry out and place the paddle in a storage case.
The Process for Pimpled Rubber Padding:
If your paddle has a pimpled rubber padding, use these steps-
Place water in a bowl, add some dishwashing liquid to it.
Place an old toothbrush in the mixture.
Hold the paddle with one hand and clean it gently with the toothbrush.
Repeat for both sides, then wipe with a moist but not drippy sponge (water only).
Make sure that your paddle is not just lying around, place it in a storage case once it's dried out for that sparkling shine to last.
What is Best to Clean Ping Pong Paddle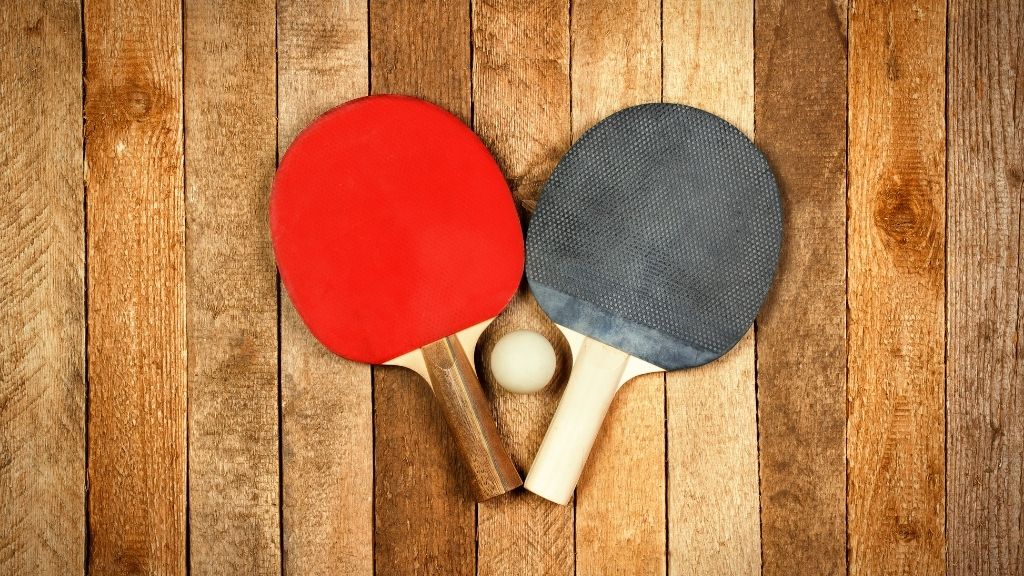 People prefer using household items to clean different types of ping pong paddles simply because of how cheap and flexible they are. Imagine how easy it is to just soak a toothbrush in soap water and clean the paddle. The results are pretty amazing. Or are they?
The process may be easy, fast, and convenient, but you will see the difference when you compare it after cleaning it with commercial cleaning tools. If you use commercial cleaning products, you'll notice there is a lot that you cannot achieve by just using a toothbrush.
Commercial tools are made while keeping in mind how paddles are built. Unlike soap and toothbrushes, they contain chemicals that are not only easy on the paddle surface but also provide a protective coating for your paddle.
As mentioned formerly, the best way to clean your ping pong paddles is with a commercial cleaning product. They make the work easier and offer far superior results. However, it is crucial to opt for the right cleaning agent so that you get optimal results. We have piled up a list of our top picks for ping pong paddle cleaners below.
Why Use a Cleaning Product
We endorse commercial cleaners because of their flawless results and superior cleaning ability. These products come as kits, with either a foam or a spray-based cleaning agent. Commercial chemicals are explicitly designed to tackle the dust and grime that builds on ping pong paddles. Here are the reasons why players prefer a commercial cleaning product-
They offer cleaner and more thorough results.
The rubber is saved from oxidation and aging damage.
They remove dust and grime far better than just water.
They preserve the longevity of ping pong paddles.
They have the appropriate cleaning materials.
Just think about it. If you have purchased an expensive paddle, then buying another one after using it only a few times is not feasible. It's better to take care of your paddle with these commercial cleaning tools, which helps increase its longevity. Therefore, it's worth using them if you want to keep your paddle in top shape.
Best Ping Pong Paddle Cleaner: Our Top 3 Picks
1. Butterfly Ping Pong Paddle Care Kit –
Most Popular
This ping pong paddle cleaning kit is the complete solution for all the dust and grime that haunts your favorite paddle. It comes equipped with a cleaning agent, clean sponge, and tips for cleaning your paddle in the best way. The cleaner is excellent for removing dust and oil stains in just one go.
It rejuvenates your paddle and makes it last longer too. With one of these cleaning kits, you can clean your paddle 125 times (both sides) and never worry about it getting dirty again.
This cleaning kit is good at removing excess oil while maintaining the natural texture of the rubber. It also helps in revitalizing rubber to its original state. With its high-quality and durable sponge, it is indeed the best for cleaning all types of rubber surfaces.
The thing we didn't like is that it can make the rubber slippery on the first few uses after cleaning. Furthermore, other products offer much better quality at this price.
2. MightySpin Ping Pong Paddle Accessories –
Editor's Choice
MightySpin does not believe in subtlety, and it declares what it aims to achieve: a mighty spin! Your paddle's performance suffers as a result of building dust and oil, but not with MightySpin. This cleaning kit is the perfect solution for your paddle's performance preservation and to safeguard your investment.
It can keep the rubber padding flawlessly cleaned and give you the edge in your next game. MightySpin delivers what it promises – optimal performance and flawless cleaning.
Moreover, it helps increase the stickiness of the rubber and prevents unintentional slips. This kit fine-tunes your paddles for optimum performance and maintains the coarseness of the rubber, which extends the lifespan of your paddle.
It is a little bit expensive compared to other products. Furthermore, the bottle appears to be very fragile. At this price, they could have increased the packaging quality a bit. However, the product is all that it promises to be.
3. JOOLA Turbo Rubber Cleaner Spray –
Easy to Use
When a company proudly boasts that it is a sponsor of the US National Team, you can't question their credentials. JOOLA offers a thorough cleaning of your paddle's rubber covering and keeps it as if you just bought it. As the name implies, the product offers a quick "turbo" clean and ensures that your shots land exactly where you want them to.
The product is guaranteed to make your paddle last longer and to preserve its potency. Since professionals use JOOLA, you can emulate their example, especially because the product offers a flawless finish.
The Joola cleaner spray is best at removing excess oil from your racket and keeps the rubber soft yet coarse. It also keeps the rubber sticky with its turbo clean feature that precisely tunes the rubber for accurate shots.
If the rubber becomes too dry after a heavy wash, we recommend applying some oil on it as a conditioner. Please also be noted that prolonged washing can decrease rubber quality.
How to Protect Your Ping Pong Paddle
To protect your ping pong paddle, it is ideal if you store the paddle in a storage case so that it can stay away from dust, which can accumulate over time between the pimples. Also, to keep the handle like new, you can use a grinder to sand the part where you hold the paddle.
These storage cases can keep your ping pong paddle new without degrading their performance. They keep unwanted elements away from your paddles and prevent the dust from reaching parts of the paddle, which are essential for the tackiness and coarseness of the rubber.
Besides, you don't need to purchase additional bags when you're attending a tournament or sports club. These are easy to carry around, and some of them have a larger capacity to store multiple paddles and balls.
Best Ping Pong Paddle Cases: Our Top 3 Picks
1. JOOLA Tour Carrying Case –
Editor's Choice
JOOLA has been involved in the table tennis business for a long time and has established its name worldwide. It has made some very high-quality products and continues to do so.
If you are going on a championship tour, then the JOOLA Tour Carrying Case is the ping pong paddle bag that you really need. The best part is that apart from storing your paddle, it also conveniently allows you to store 18 ping pong balls.
The foam is high density, and overall, it allows you to store up to two rackets simultaneously. If you look at the outside, you will immediately notice that the case has a thick construction that allows maximum protection.
If you are looking for something that is easy to transport and will fully protect your paddles, then consider this quality bag as your next purchase.
2. Duplex Ping Pong Paddle Case –
Most Popular
Duplex is known to be one of the top quality brands out there that manufactures quality covers for paddles. Thanks to their technology, they can manufacture their own fabric that results in high-quality products like this one.
The case looks very elegant and attractive, but it's not all about its look. The case works as well as it looks. We particularly like the cushioned material, which is very good at protecting your paddles from any outside forces.
It was surprising to see that Duplex has used nylon in between the foam layers that are also very adequately padded. This makes it waterproof, and even if you take your paddle in the rain, this bag will make sure that no water gets inside.
We also liked one of the perks you get with this bag. It provides a separate compartment to house two of your favorite ping pong balls, which is excellent.
3. STIGA Table Tennis Racket Cover –
Best Budget
The STIGA Table Tennis Racket Cover is a highly durable vinyl cover that is ideal for protecting your rackets from unwanted dust. It is made of high-quality fabric and has a very spacious and convenient design.
The cover is quite large, and it is effortless to open and close it. You won't need another bag for another racket as the bag's size allows you to store more than one paddle.
In situations when you have to travel a lot, this bag will prove to be of good value as all your stuff can go inside one bag. One bag for all, and one bag to find them.
STIGA is also appreciated for its high-quality customer service. Its staff is amiable and extremely engaging. With a sense of courtesy and a can-do attitude, you will be delighted with them.
The Final Word
The thing about cleaning your paddle is that if you can't do it right, then it would be better not to bother at all. While some people may suggest using ordinary surface cleaners for wiping off the dust from your paddle, it is not advisable.
Chemicals that are not dedicated to cleaning rubber may act detrimentally and ruin the integrity of the padding. Using a dedicated cleaner is the safest method, but remember not to overdo it – use the agent in moderately.
As for the frequency, there is no real answer to this. If you keep your paddle in a storage case, then even a monthly clean would suffice.
Remember, after you finish using your paddle, clean not one but both of its sides with a damp cloth, a sponge, or a commercial cleaning tools. Once you're done cleaning, always cover the rubber with rubber foils. But do allow the rubbers to get dry first.
What we recommend is using JOOLA Turbo Rubber Cleaner to wash as it maintains the natural texture of the rubber and then keep the paddle in Duplex Ping Pong Paddle Case, which helps protect it from dust or any environmental elements.
A Pro Tip: If you can't figure out the best solution to emergency-clean your paddle, use alcohol, and avoid spin increasing solutions like WD-40 at all costs.
Also Check Out: