In the game of table tennis, called ping pong by some, the objective is to score on your opponent by making them miss the ball when it is their turn to receive.
One thing that many people do not even give a moment's thought is where does the ball go after it has bounced off of the table? Well, of course, it bounces away from the table and off in a different direction.
But, nobody wants to chase after balls that get away, so the use of barriers is employed to prevent stray ping pong balls from bouncing off too far and also to restrict the play space somewhat.
You can read all about these helpful barriers throughout this article.
We will cover topics such as what the usage and benefits of these walls, what sizes you can get them in, what materials they are typically crafted out of, and also some of the best table tennis barriers that are currently on the market in case you want to purchase some for yourself.
What Are Table Tennis Barriers and What Are They Used For?
As mentioned earlier, table tennis barriers are portable walls that are placed around a ping pong table. Their main purpose is to keep stray balls from bouncing too far away from the play area and are most commonly used during tournaments and official events.
These barriers have no standard sizes, though you will generally find them coming in sizes that are two feet high and six and a half feet in length (78"x28"). These are the ones that are most commonly used in tournament play.
The usage of these portable walls not only makes it much easier for loose balls to be retrieved but also helps to protect onlookers and passersby from being hit by a ball that gets away from the players.
If you are a recreational player or someone who wants to use these barriers for uses other than official play, then you can choose to purchase only as many as you think you need to secure the area.
For official tournaments and events, however, there is a set number of barriers that need to be used. As per the requirement, 32 individual table tennis barriers are required for any official table tennis tournament that is to take place.
The layout of these small blockades is to have ten of the barriers placed on either side of the ping pong table, with the remaining twelve barriers placed behind each player six to a side. The resulting layout is a 6×10 rectangle of helpful little table tennis barriers.
Benefits of Using Table Tennis Barriers
We have already mentioned some of the benefits that come from using table tennis barriers, though there are a few more.
While ping pong balls are small and not very heavy, they can still pose a threat to small children and even adults who are watching the game.
Professional players are able to send the ping pong ball flying at incredible speeds, so having a protective barrier present to keep onlookers safe from a hit from a high-speed ball is a good thing.
Learn More: What Are Table Tennis Balls Made Of? And How?
Also, these barricades keep people walking by safe as it prevents the ball from getting away and possibly tripping someone up or getting it crushed by someone walking past.
In terms of how these barriers affect the game, they help to restrict the play area to a reasonable space and contain the two players in a manageable area.
Table tennis barriers are not just helpful in tournament play, however. Getting some table tennis barriers for your home is a great way to protect areas of the house with fragile items.
Having some of these handy walls around also means that you will spend less time digging around looking for loose balls since they will get caught by the barrier instead of rolling underneath a sofa or behind a bookshelf.
What Are Table Tennis Barriers Made Of?
Most table tennis barriers are made out of one type of material – nylon because it is lightweight yet highly durable. Another type of material that you can find table tennis barriers being constructed out of is polyurethane leather.
While generally more expensive than standard nylon barriers, PU leather is quite a bit sturdier and also has a cleaner appearance. We will quickly go over both types of materials and what they bring to the table in terms of benefits.
Nylon Barriers
Nylon barriers are the most common type of barrier that you will find. They are most commonly found in three different types of thickness, each differing in durability as well as usefulness.
Following are the three main types of nylon barriers. Each name refers to the thickness of the barrier, with larger numbers indicating that the wall is thicker and, generally, more durable.
210D: The first nylon barrier we have is the thinnest. This table tennis barrier is best suited for only temporary uses, such as for ping pong training courses or as a billboard during events. While durable, they are not expected to last long due to being thinner than other nylon options.
420D: Our second nylon barrier features thicker fabric but also a sturdier and thicker skeleton. This barricade has a stronger build than our previous offering and works great in public areas or being used as a family fence within the home.
600D: Finally, we have the thickest of the nylon barriers. By far the strongest and most durable barricade made out of nylon, this wall is best suited for competition environments or for businesses to use for their public arenas.
Polyurethane Leather Barriers
Aside from the nylon barriers, we have those which are made out of polyurethane leather. While these barricades may look delicate, they are pretty sturdy and will last for years to come.
These are quite a bit more expensive than nylon barricades and, as such, are best reserved for stadiums, official world competitions, or high-end businesses which want to use the very best quality materials.
Best Table Tennis Barriers
Here are some of the best table tennis barriers from the most reputable brands that you can buy without having to worry about quality. These barriers have been used and are still used in major tournaments worldwide.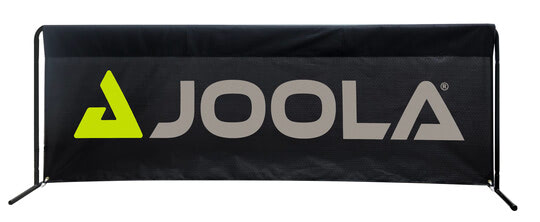 JOOLA Barriers
JOOLA is a big name in the ping pong world, and their barriers carry on the legacy of quality that they have built up. Their barriers feature attractive designs and sturdy build that are made to last for long.
Butterfly Europa Barrier
Butterfly is another big name in ping pong, and the barriers that they make are no slouch. Featuring simple and elegant designs and sturdy build quality, these table tennis barriers are perfect for any environment or usage.
Killerspin UnPlugNPlay Barriers
Yet another great brand, Killerspin, manufactures barriers that are made of quality materials. These barriers are very easy to place and also are built to last. Also, the design looks modern and far more than just making things look pretty.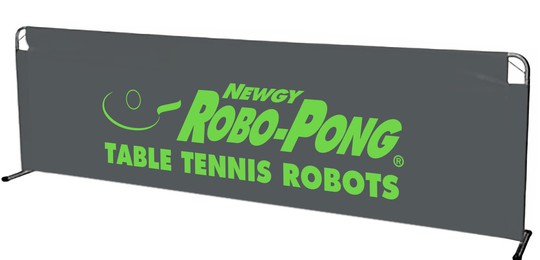 Newgy Court Barrier
Newgy table tennis barriers are our last recommended brand, but they are certainly not the least in terms of quality. Newgy barriers are well-manufactured and built to last game after game. These barricades also sport a pleasing look that fits well in any space.
The Final Words
Table tennis barriers are an often-overlooked feature of the game. Many people pay no notice to these helpful barricades, but without them, there would be a lot more chasing after loose balls and potential hazards posed to those who are watching a game unfold.
Now you know a bit about these handy little walls, such as the materials they tend to be crafted out of and who some of the best manufacturers of table tennis barriers are. Needless to say, it will be easier to appreciate these helpful little walls now that you know a bit more about them.