While many of us play table tennis as a recreational activity and just wear whatever we may have on at the time, some individuals prefer to wear clothes that are more suited to the activity.
Wearing the proper attire is how you can enjoy this wonderful pastime to its fullest potential. Not only will you be more comfortable while you play, but you will also look great during any competition or tournament.
So, what is so important about wearing the right table tennis apparel, anyway? Well, that is exactly what we will cover in this article.
You will also learn about what materials table tennis clothes are made out of and where you can find some wonderful choices on the market today.
Does Wearing the Right Clothes Matter?
Depending on who you ask, the clothes worn when playing table tennis may not matter much at all. Recreational players and those who are looking just to have a bit of fun and pass the time might play wearing jeans and a polo shirt.
However, those who take the game a bit more seriously will most likely tell you that wearing the right clothes for the game definitely does matter.
Of course, you will get the obvious benefits posed by wearing an outfit that is made explicitly for table tennis. Added comfort, a much wider range of movement, and colors that can identify you or your team if you are in a competition.
Keep in mind that while you technically can play table tennis in any clothes, wearing an outfit that does not facilitate movement can be quite a hindrance.
Not only will you be weighed down by your clothes more, but you will also be uncomfortable when moving around.
This is why tight and baggy clothes are not used by professionals. You will also not see a pro player wearing a long-sleeved shirt. This is because the sleeves of this type of shirt can interfere with their paddle or even the ball and can restrict their movement if it gets caught on their elbow.
Aside from having less range of movement, even when wearing basketball shorts and a loose shirt, you may grow uncomfortable due to the weight of the clothes themselves and the sweat that can build up when playing intense games.
Don't forget about the proper footwear! Having the right footwear type is just as important to your overall ping pong outfit as your shirt and pants.
Sneakers or running shoes are the way to go when it comes to playing table tennis. Sandals, boots, and flat-footed shoes are not great options when you need to be quick and nimble.
Read this article to learn more about other equipment and accessories used in table tennis.
In short, wearing the right clothes when playing table tennis will help to give you a much more enjoyable play experience by keeping you comfortable and agile throughout the entire game.
What is a "Proper" Table Tennis Outfit?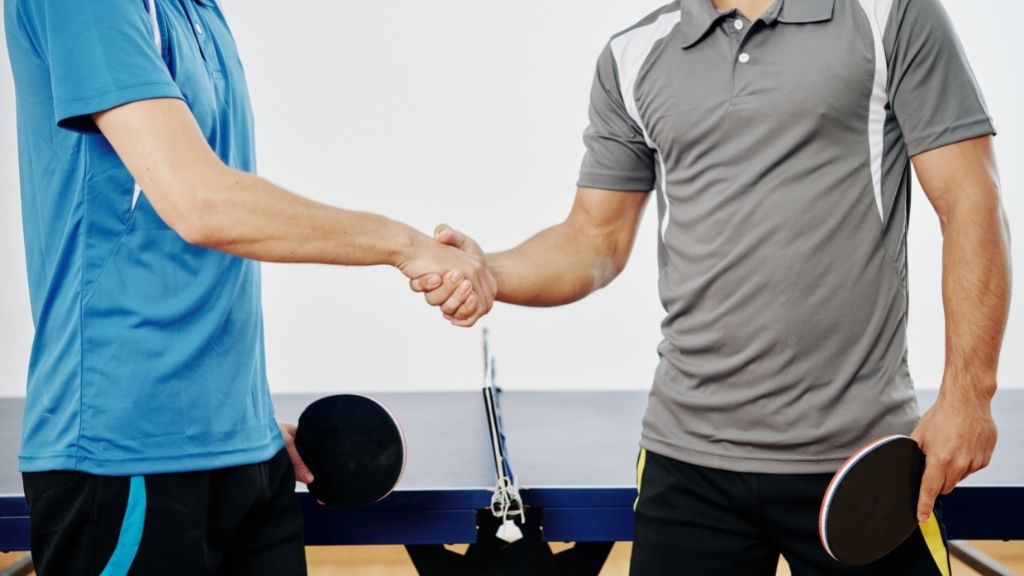 Now that we have established that wearing the proper apparel for playing table tennis does indeed matter, it is important that we cover what exactly a proper outfit is, according to official regulations.
In general, wearing clothing that is not too tight and not too loose is what is considered proper. This is most often a pair of comfortable shorts and a shirt with short sleeves.
For footwear, players are often required to wear socks and will need to wear shoes with soft soles.
The proper type of table tennis costume all depends on the environment and situation. These can be generalized as clothing for professional environments such as tournaments and international events and clothing for more casual play and local events.
Professional Table Tennis Outfits
For official tournaments and those played on an international level, a stricter dress code is implemented. According to the International Table Tennis Federation (ITTF), some of the requirements for proper table tennis attire include:
Short-sleeved or sleeveless shirts paired with either shorts or a skirt
Socks along with playing shoes
The overall color of the outfit being clearly different from that of the ball being used
The name of the player being placed below the collar of the back of the shirt (if applicable)
Numbers on the shirt having priority over advertisements (if applicable)
Players on a team must be dressed uniformly (with exceptions for socks, shoes, etc. possible)
Opposing players must wear shirts that are clearly different colors
These are just some of the various rules that the ITTF enforces when it comes to table tennis attire.
Of course, on the international level, things get quite a bit more serious, so expect to simply wear shorts, a comfortable t-shirt, and running shoes if you ever enter into any local tournaments.
Casual Table Tennis Outfits
Even if you do not plan on ever playing table tennis at the professional level, wearing an outfit that facilitates comfortable play is a great idea.
Aim to wear attire that is not too tight and not too loose since both of these things can impact your movement and lead to you feeling uncomfortable.
Shorts that sit above the knee and have an elastic waist are the best to use for playing, and a shirt that is lightweight and comfortable is what you want to wear.
For your shoes, wear some sneakers or running shoes that are comfortable and will allow you to move around quickly without hurting your feet.
Best Table Tennis Clothing
Now that you know a bit about table tennis attire and what type of clothing is best suited for the sport, you can look into some of the best brands and products that are on the market nowadays.
We have selected some of the very best options that you can find online when looking to make your very own ping pong outfit.
Every one of our picks is great for casual play and also works amazingly for those who are more serious and are looking for apparel to use in tournaments and professional events.
Butterfly Chiara Skirts
For women, these skirts from Butterfly are a wonderful choice for making your very own table tennis uniform. Highly comfortable and also very beautiful, these skirts will serve you well no matter when or where you decide to play. Light fabric means that you can move freely, and an inner lining helps to protect you even when going for those tougher shots.
JOOLA Shirts
JOOLA is known to be one of the biggest names in the ping pong world. You can choose to get this professional-quality shirt from them, which provides you with a beautiful design and also a very comfortable fit when playing. Loose but not too loose, this shirt will remain comfortable even during longer games.
JOOLA Shorts
These shorts are of competition quality and include a comfortable elastic waistband as well as a string so that you can adjust the size. You can even use these shorts for other sports or activities aside from playing ping pong.
Butterfly Socks
These socks are made specifically to remain comfortable during table tennis games. Their non-slip design and lightweight feel keep your feet comfortable even during longer games and prevent bunching up within your shoe when making more intensive movements.
To Conclude
Wearing the correct ping pong dress is very important when playing the game. Whether you are playing professionally or simply casually, dressing the part will lead to you being more comfortable, performing better, and even staying safer throughout your games.
Just keep in mind that ping pong outfits need to be comfortable, breathable, and wick sweat away so that you can perform at your best no matter what.
Hopefully, this article has helped to teach you some of the most important aspects of table tennis attire and how it can be a benefit to wear the proper clothing.