Thinking of installing a pool table in your space? Then you might be wondering about the type of flooring you need and what the table should sit on!
To break it to you, hardwood is good flooring for pool tables, but they can get damaged under certain conditions.
Placing an area rug under a pool table might be the answer that you're looking for. Now that you are getting a slight hunch, carpeting and area rugs also have their own set of benefits and disadvantages.
The available options for you depend on many aspects of your home. Read on and consider the factors that can help you come to a decision.
Reasons to Use Rug Under Pool Table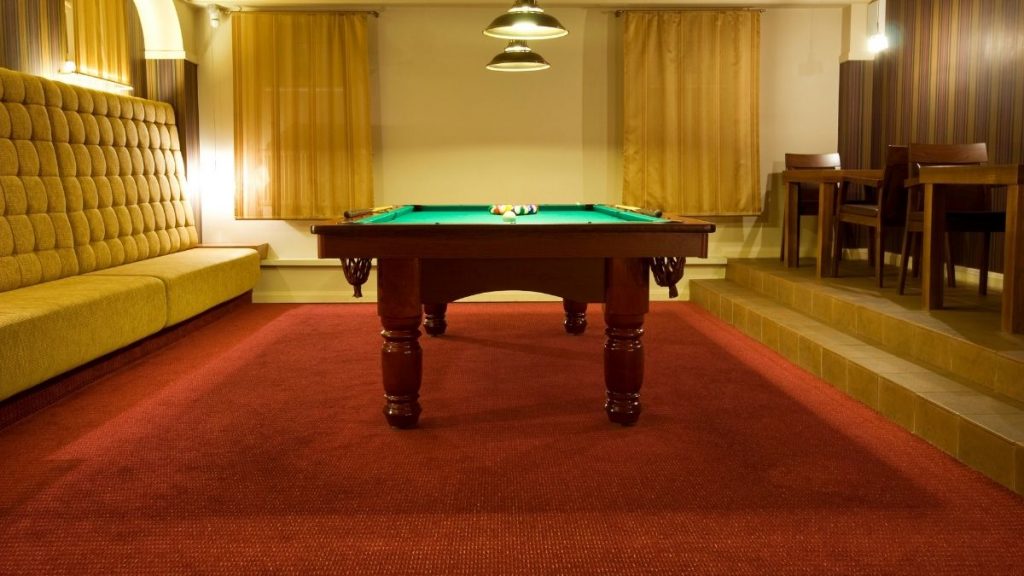 While some may think that a rug is not needed if you own a pool table, it's important to learn some of the best reasons for opting for a rug. Having a rug provides you with many different means of protection from spills, dirt, and wear and tear, but there are also other benefits that a rug offers. We'll go over a few now.
Allows the Pool Table to be Easily Moved
If the exact placement of the pool table is not yet decided, chances are, you might be moving your pool table to the corners of your home from time to time.
Without anything under it, the constant moving can damage both the flooring and the pool table. A carpet or rug makes this task a lot easier.
Moving heavy belongings, in general, is energy-consuming if you have to drag them on a hardwood floor, especially when we're talking about a whole pool table.
Area rugs are more forgiving because they can prevent the sliding from leaving floor scratches behind.
Finding the perfect spot for the pool table becomes a lot more bearable and worry-free with a rug under it. By having a rug, you are easily able to move your pool table while keeping the floor beneath it safe from damage.
Helps Reduce Noise
As a pool player, you may find yourself at ease hearing the balls ramming onto each other or the sounds of the steps you and the other players when launching the shots.
However, the other people in the house might feel otherwise. The clacking of the balls echoes all over the place. It is noticeable and rumbly for some individuals who are not into pool games.
The large rug under the pool table can dampen the sound. It cuts down the resounding harsh echoes in the space.
When the hard surfaces are already covered with solid foam or rug, the sound waves brought about by all the bouncing will be reduced to some extent.
Protects the Floor Around the Pool Table
The major benefit of putting a rug under your pool table is to ensure protection for your flooring. The floor will be free from balls, tears, and extra wear struck off the pool table.
Like any other sports or games, players can have intense rounds, which can impact the table and the floor.
A pool ball hitting the floor can cause dents or crack on tiles and hardwood. Not only does it spoil the look of your flooring, but it can also cost you thick bucks and serious time for repairs.
Other than the pool balls, the foot of the table is also a definite factor that causes floor scratches.
Do You Really Need a Rug?
Rugs mainly protect your floor from the potential impacts of playing pool. However, rugs can also lead to troubles when certain factors are not duly considered. Here are a few disadvantages you have to contemplate beforehand.
Rugs Get Stains
If you think that pool games are not complete without something to sip or munch on, the area rug can get tough stains from your drinks and food residue.
Apart from the possible mess from eating around the table, the rug will also suffer from the foot traffic around the pool table area and wear out eventually. Thus, you need to replace all your rugs and wash them again and again.
Also, a heavy pool table can cause dents on the carpet in the long run. Just like the legs of your couch, the tables can leave similar dents on the rugs.
Floors might be a lot worse, but at least they can be repaired — unlike rugs.
Dents created by pool tables stay forever. It will probably lessen your worries if the current position of the table is in its permanent place.
Installing carpet squares, however, can relieve such a painstaking job. Carpet squares are easier to swap in design or change when covered on stains.
Difficult to Level
As much as you aim to flat out the rug in one go, it is not always the case with pool tables. It could take months or a couple of weeks to fully settle on the floor.
Leveling the floor with the rug on and expecting it to stay put is the last thing you should expect.
A few months prior to the rug installation, you can try to revisit the leveling of the pool table and make amendments.
It's the only safe action to do if you'd want to push through with placing rugs under the pool table.
You Need a Big Rug
You will have to acquire a huge rug to fit the size of your pool table. This is so that you have a wide space for the players to walk around when launching shots and to fully pacify the ground from the echoes.
Big rugs could take a bite in your pocket, so looking for an alternative or cheaper option might be necessary. Also, it's important to know the size of the pool table when picking out a rug that has enough ratio to cover the area and serve its purpose.
What Size Rug Should You Get?
Deciding on what size of rug you should get all depends on the size of the table itself. Of course, once you get the minimum size needed to safely protect the floor beneath your table, you can always opt for a larger size rug depending on your preference. Following are some of the most common sizes of rugs.
7 foot – Bar Size – 39 inches Wide (+/-1in)
Restaurants, bars, and pool halls often have this type of pool table since it more likely takes up minimal space in the area. More players are also enticed to play as it is just right for a regular pool table.
Rugs for 7 foot – Bar Size – 39 inches Wide (+/-1in) pool tables should have size dimensions of 13' 6″ x 16' 8″. With such a size, the players will be in the proximity of the laid rug under the table.
8 foot – Standard Home – 44 inches Wide (+/-1in)
This may be the type that you currently have as it is the most common size fit for households.
A billiard store usually has available options for choosing a rug. But to settle on its particular size, rugs for 8 foot – Standard Home – 44 inches Wide (+/-1in) pool tables must be around 13' 11″ x 17′ 4″ to 13' 1″ x 16′ 6″.
Professional 8 foot (AKA Pro 8) – 46 inches Wide (+/-1/8in)
Likely for professional playing fields, this pool table is set to be an alternative for 9-foot options. It is also a solid choice to be installed in your own space if you want to explore the experience of both professional and casual play.
Rugs for Professional 8 foot (AKA Pro 8) – 46 inches Wide (+/-1/8in) pool tables should have a size of 13' 1″ x 16′ 6″ for allowance and enough breathing space.
9 foot – Professional Tournament Size- 50 inches Wide (+/-1/8in)
Fun to play on, a 9 foot – Professional Tournament Size- 50 inches Wide (+/-1/8in) pool table is considered as The Grand Poobah Big Daddy. Such a size is also common in WPA pool tournaments that you've probably watched on television.
A table that's bigger than this size is called a Snooker. If you have this monster at home, then make sure you have a rug that has a size of 14' 6" x 18' 4".
How to Put Rug Under a Pool Table
Now that you have decided on the size of rug you want to use, it's best that you learn the proper technique and methods for getting your rug under the table itself. This may seem like a daunting task, but following this simple guide can make it easy and safe.
Firstly, you can simply lift each corner of the table gently and spread the rug out beneath it. You can lift the table by its ends, depending on its weight and size. Lay the carpet on the floor, gradually spreading the rug out to lay flat as you lift each corner.
The task can get a lot easier if you have dolly tables or rollers at home. Call someone for assistance to help you lift the legs and stretch the carpet properly so that no wrinkles or bunches are left behind.
If you don't feel like lifting up the table but still want to protect the ground surrounding it, you can opt to cut out spaces in a rug for the feet of the table. After cutting out squares that are the size of the feet of the table, you can simply slide the rug under the table and fit it around the feet.
This option offers you perks like not needing to move the table when it's time to replace the rug, making for easy cleanup. The downside is the floor that your table is sitting upon is not protected from wear that results from the weight of the table itself.
Another option you have is cutting out rug squares that can be slipped underneath each foot of the table. This is good if you want to protect the floor beneath the table's feet but don't want to have a full rug beneath the table itself.
Simply lift each leg up one at a time and slip your carefully cut square beneath the foot. This is the opposite of the last option since you protect the floor from wear and tear but not from spills and other dirt.
If nothing else works and you just need to get a rug placed beneath your table, you can disassemble the table entirely and then reassemble it atop a rug. Get the help of professionals and let them disassemble the table and transfer it to the other room just before the rug is placed.
After the area rug has been laid, you can move the table back, reassemble, and relevel. Although, this option is costly and time-consuming.
Final Words
Putting a rug under your pool table is, after all, a personal preference. However, most experts agree that installing a carpet can make a big positive difference, especially if you have concrete, tile, or hardwood flooring.
Pool table rugs are meant to last long and withstand daily use. You might not have to clean it often, but you should consider frequent maintenance to restore its quality.
There are many places where you can buy pool table rugs, whether online or in your local hardware or sports store. You can also have professionals come in and install it if you're not familiar with the installation processes.
For Further Reading: