Do you often find yourself yearning for the right spot for playing table tennis? It does not matter if you are an enthusiast or someone who is just fascinated by the sport; you may want to have access to the best places that can offer you quality table tennis equipment. Reddit, Twitter, and Facebook groups are your quickest ways to get answers about all the prime spots near you.
It would aid you immensely if you discovered a spot where you can happily practice your game to hone your fundamental table tennis skills. Many places offer you table tennis services, some of them are free while some will cost you.
It would help if you always kept in mind these factors while seeking out the right spots.
You can go with your friends for a casual game
Availability of public transit for that spot
Food and snacks available within the vicinity
Affordability
After game discussions with other players
Read on as we list down all the potential spots guaranteed to provide you a good time.
Places Where You Can Play Table Tennis
1. Parks
Many parks have an excellent area dedicated solely to sports. They include many sports equipment, one of them being the ping-pong tables. Look for parks with this service available; however, be warned, there will already be many others practically glued to those tables.
Since this service is free, it is all about luck if you can grab the racket and ball for yourself, and your opponent does, too.
You can have your friends tag along or find someone on the spot to play with you. Therefore, may the odds be in your favor if you happen upon a park that offers this game.
2. Clubs
Several clubs and associations are committed to provide you with the best space to polish your ping-pong skills. These clubs not only have the top-quality equipment for usage, but you will always find a suitable opponent to play with, get some tips and tricks from the experts, and be able to participate in competitions.
Clubs, however, do require memberships, and that can cost you. So if you wish to stick to a regular ping-pong practice, look for well-reputed clubs in your area.
3. Night Markets
Some markets, when night falls and the shops close down, become a fantastic ping-pong hub in the downtown area. Such services are the provisions of communities, and so it is through word of mouth awareness, or you can connect with people through Reddit to invite you over.
The residents get all the access while also protecting and respecting the equipment. Someone is in charge of monitoring everything, but it is voluntary. People gather around once the night falls in these hubs and get their game on. Sometimes, these junctions conduct their competitions and prizes.
4. Sports Section of Educational Institutes
If you are a student, your college or university is sure to have a recreational spot complete with all the sports and their materials. Make sure you browse around, get acquainted with the space, take all the information from the fellows already a part of it, and then register with the sports manager.
Institutes understand the need to incorporate sports the same way they do with education. Many students train within their university-provided recreational centers, and then go on and partake in leagues. Institutes also hold sports week and allow their students to shine.
5. Bring the Game Home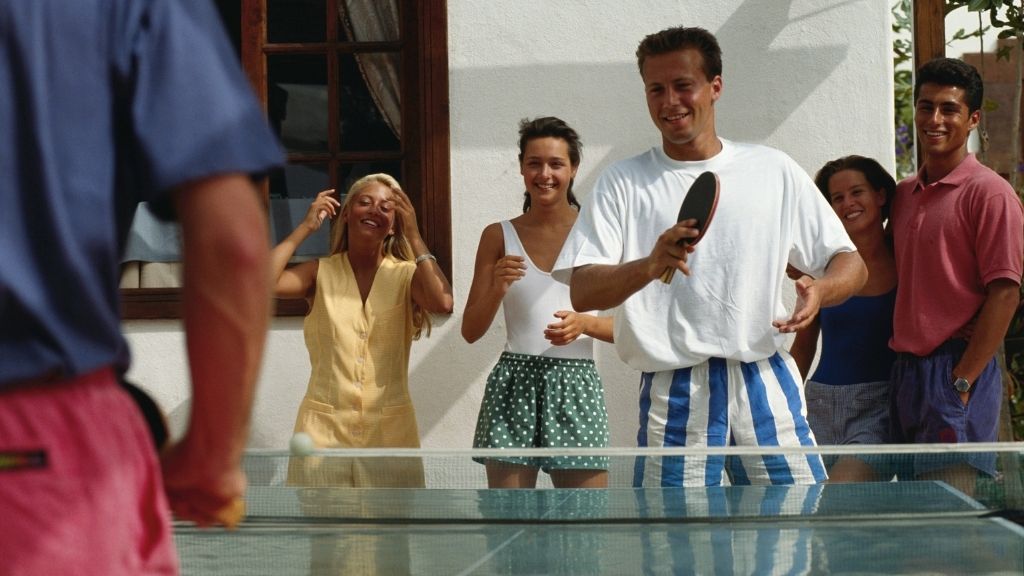 Although ping-pong tables are not considered an everyday purchase since they can be very pricey and require a certain space, if you are willing to spare the money, you can have your very own privately set up ping-pong or table tennis area.
This way, you are free from the hassle of searching for places, membership registrations and waiting for your turn. Ping-pong tables come with immense features like-
Foldability
Wheels
Net and balls included
Storage space
All the accessories
Pre-assembly
Locking mechanisms
If you wish to go for a table, ensure that it offers you all these essential features.
6. Hire a Private Coach
Here is the thing, if you take table tennis very seriously and wish to succeed, then your best bet is to get yourself a high ranked coach.
This will not only give you exclusive access to all the table tennis strategies and tactics, but coaches have their very own centers that come decked with all the top-notch equipment needed for the game. This will ensure your daily practice, skill enhancement, and overall progress in the game.
7. Join Player Development Camps
Among all these options, often, some sports organizations set up improvement camps. They offer a vast range of table games, and table tennis makes the list. These camps are organized to be periodic, but they are the most reasonable outlet if you are looking to brush up your necessary skills but find it challenging to have a regular practice.
These camps employ the top professionals for all the sports and let you in on all the strategies. Such camps are also an incredible way for parents to let their children explore their fondness for the sport.
8. Get to Searching
If you see a lack of recreational centers or parks around you, get on to your area directory section or map. It is an understood fact that you need to look thoroughly and have all avenues worked out if you wish to search for something.
Most importantly, keep yourself updated to the happenings of your community or area in general. Some ways you can get this information is –
Use internet searches and Google best spots around you
Join your community's private groups
Get on social media
Stay in the loop by communicating with the organizers
Do not hesitate to ask questions or make suggestions
Conclusion
Now that you have learned about some of the most appropriate spots for playing ping-pong or table tennis, you can choose the option best suited to your needs and preference. You must also consider the magnitude of your commitment level to the game.
If you want to go big, keep practicing, and go for the more serious options; otherwise, you can always enjoy a casual game with friends.
Here are some articles you might find useful: