Have you ever watched people play darts on TV in tournaments or at your local bar and wondered how these people have such great aim? Actually, dart practice boards are among the main reasons why so many people have fantastic aim and accurate throws in tournaments.
A training board is a type of dartboard where the triples and doubles are thinner than the standard dartboards. The 25 and bullseye are also smaller in diameter when compared to the typical dartboard that everyone knows.
A practice board isn't "required" when playing darts regularly, but if you have aspirations to enter into a league or join competition at your local bar, then a training board might be your key to success.
Do You Really Need One?
The easy answer to that would be yes. Everyone needs something to practice with. If you're doing something and enjoy it, you would naturally want to be better at it. Right?
When players get used to a training board, playing on a standard dartboard is going to be way easier since in the players' minds, the triples, doubles, 25, and bullseye doubles in size, and that makes it way easier to group on those spots on the bed.
These practice dartboards work like magic, and the improvements you get will be drastic. You'd have the confidence to play darts with your eyes closed!
But before even heading out of the house or going online and looking for a practice dartboard, you should ask yourself, "What do I want in a practice dartboard?" Do you want one with the bulls or without the bulls? Do you want it to be a standard size with smaller score multipliers? Or do you want the entire bed to be a smaller size?
The Right Practice Board For You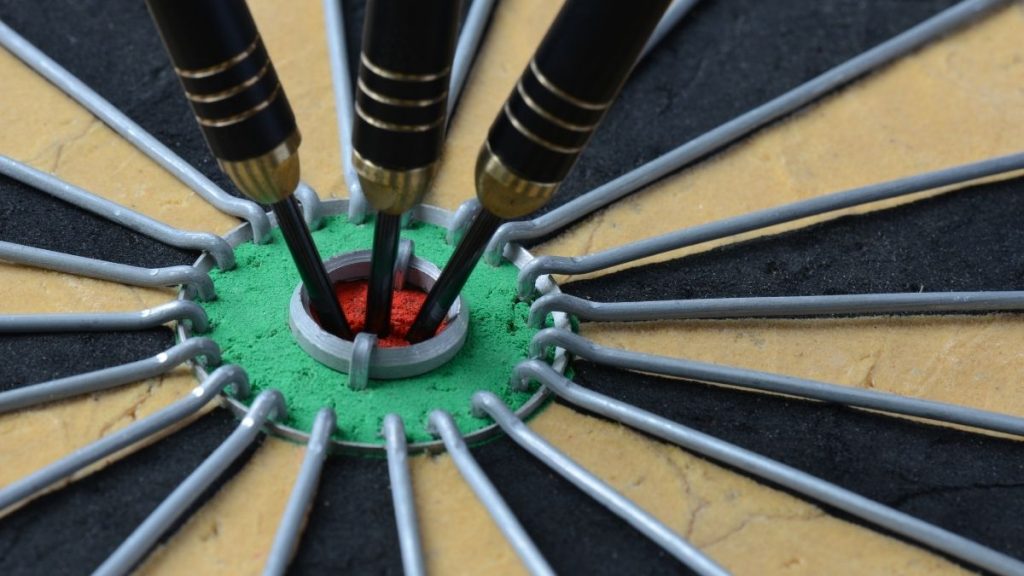 As indicated above, selecting the "perfect" training board for players will totally depend on the players' preference.
Some players want a practice board with bulls. Bulls are targets placed on the bed where the player can aim to, to practice their grouping accuracy. Some players, on the other hand, want the board without the bulls to just practice their aim on the score multipliers.
There's a wide variety of different training boards online where players can carefully pick the best one that suits their play style and the parts of their game they want to focus on and improve.
Choosing the right training board is like choosing anything; if it feels right and you think it's what can help you the most, then that's how you know it's the training board for you.
However, there are a few details the player needs to pay attention to. Just like in choosing a standard dartboard, there are some minor things in the practice boards that shouldn't be overlooked, like:
1. Wiring
Although the wiring is a small detail to the practice board, it can greatly affect your practice session because the thinner the wiring, the easier it for you to get those score multipliers.
Most people won't even think twice about the wiring of the board; some people don't even know that the wiring of the board can affect the game as a whole.
2. Ink
There are different inks used to color the dartboard. Most professional players look for the food-grade ink since that soaks deep into the fibers of the whole board.
A minor detail that the ink helps is glare from the board, some players wouldn't mind it, but during practice sessions, players must attend to the minute details of the game. The ink also helps keep the practice boards' integrity longer.
3. Staples
Staples are also a tiny detail on either practice and standard dartboards that usually get overlooked; these "tiny" staples may or may not dictate your ability to get a bullseye.
On some practice boards, there are more prominent staples; those tiny little details could hinder a player's game more often than anyone would think. Prominent staples present an extra obstruction to players who are looking for that multiplier grouping.
Best Practice Dartboards: Our Top 5 Picks
Here are five of the best practice boards available in the market that can help you improve your game by providing the least obstruction during practice sessions. Make sure you choose one based on your needs.
Winmau Blade Champions Choice Dartboard
This practice board is a good choice for budding players who are looking to improve their dart game. Trebles and doubles are 50% thinner than on the standard Winmau Blade 5 dartboard that the company also offers.
The bullseye and 25 are also half the size than the standard. Boasts the new dual-core structure that Winmau has to offer. It has less prominent staples and very thin wiring as not to add extra obstruction.
Unicorn Dartboard – Eclipse Hd Trainer Board
The Unicorn Dartboard brand takes pride in this product, made for serious players who are trying to get more accurate throws and steady groupings.
Trebles, doubles, 25, and bullseye are half the size of the standard. The spider is also ultra-slimmed down for those close-call shots. Staples won't be a problem with this practice board as well.
ONE80 4106 Dot Trainer Dartboard Multi-Coloured
This practice board takes a different approach to the world of darts training boards. The ONE80 doesn't have thinner trebles, doubles, 25, and bullseye. This board focuses more on the bed of the board.
Rather than going for the point multipliers, this board assists players by having marks on the bed that players can aim for. The board is the standard tournament size.
Nodor Champion's Choice Practice Self-Adhesive Bristle Dartboard
A product by Nodor, this practice board is used all around by pro dart throwers who want to enhance their skills further. The board itself is regulation size so that players can get used to the diameter of the boards used in leagues.
Although the board is regulation size, the trebles, and doubles, however, are not. The trebles and doubles are half of what's on a standard dartboard.
Dart World Alien Sharp Shooter Practice Board
A good board that helps with accuracy training. Manufactured by Dart World, used by players who really want to focus on those score multipliers. This practice board is a really big help for players who focus on hitting the trebles, doubles, 25, and bullseye.
The wiring is very slim, and the staples used to hold down the wiring and around the 25 and bullseye aren't prominent at all. An overall good board, with white sisal and anti-glare ink for less visual obstruction.
Final Thoughts
In retrospect, if a certain player is looking to improve their dart game, be it accuracy, grouping, or for the sole purpose of impressing their friends, a good recommendation is they get a practice dartboard.
There are so many practice dartboards on the market made out of different dartboard materials that most people get confused when selecting one.
They start thinking it's a hassle since they already have a standard dartboard. Why not just use the one you already have, right?
A practice dartboard is well worth the time and energy it takes to look for one. After a few weeks or even just days of practicing, you'll start to see the improvements to the way you play darts when you give that good old standard dartboard a whirl.
For Further Reading: